While addressing the young woman's colloquium for social betterment in Vows of Silence, Felicity instructs her attendees on proper manners, etiquette and fashion for ladies in society. "Close your mouths," she scorns the uncouth girls, "you look like a bunch of ignorant country girls!"
Felicity's lectures on decorum are similar to the advice from popular etiquette books of the Victorian and Edwardian era. We continue our exploration of Family Guide style etiquette with these Avonlea age addages on how to be a proper lady.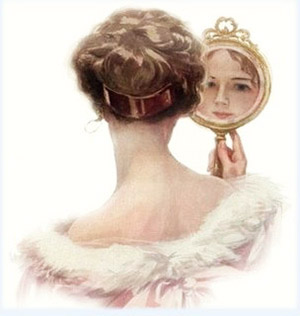 A lady, when crossing the street, must raise her dress a bit above the ankle while holding the folds of her gown together in her right hand and drawing them toward the right. It was considered vulgar to raise the dress with both hands as it would show too much ankle, but was tolerated for a moment when the mud is very deep.
~ The Lady's Guide to Perfect Gentility.
A lady does not form acquaintances upon the street, or seek to attract the attention of the other sex, or of persons of her own sex. Her conduct is always modest and unassuming. Neither does a lady demand services or favors from gentlemen. She accepts them graciously, always expressing her thanks.
~ Social Etiquette, or: Manners and Customs of Polite Society, By Maud C. Cooke
A lady should conquer a habit of breathing hard, or coming in very hot, or even looking very blue and shivery.
~ The Habits of Good Society (1859)
The low-necked dress is a fatal lure to many a woman who ought to know better than to display her physical imperfections to the gaze of a pitiless world.
~ Our Manners and Social Customs
Daphne Dale, 1891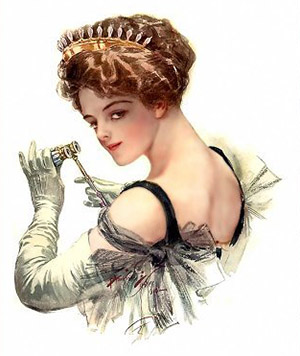 A beautiful head of hair is no insignificant item in a girl's dowry.
~ Modern Manners and Social Forms, Julia M. Bradley, 1889
If a gentleman requests the pleasure of a lady's company to the opera, she has no right to turn that expected pleasure into a pain and mortification by presenting herself with tumbled hair, ill-chosen dress, badly-fitting gloves and an atmosphere of cheap and offensive perfumes.
~ The Ladies' and Gentlemen's Etiquette
Mrs. E.B. Duffey, 1877
A lady should wear neither bracelet nor necklace when walking in the street.
The Correct Thing in Good Society
~ Florence Howe Hall, 1902
Economy in gloves is an insult to society.
~ Frost's Laws and By-Laws of American Society
S.A. Frost, 1869
In the female beauty of physical development there is nothing that can equal full breasts… All false forms are easily detected, because large natural ones will generally quiver and move at every step, while the artificial ones will manifest no expression of life.
~ Search Lights on Health
Prof. B.G. Jefferis and J.L. Nichols, 1896
Large hats make little women look like mushrooms…
Everyday Etiquette
Marion Harland and Virginia Van de Water, 1907
A beautiful eyelash is an important adjunct to the eye. The lashes may be lengthened by trimming them occasionally in childhood. Care should be taken that this trimming is done neatly and evenly, and especially that the points of the scissors do not penetrate the eye.
~ Our Deportment
Compiled by John H. Young, 1881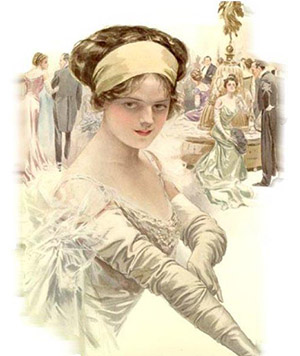 Some young ladies have a bad habit of biting their fingers, especially if they rejoice in handsome hands; and the same ladies, by way of variety, are prone to bite the corners of books, and the edges of closed fans. So it is dangerous to trust these articles in their vicinity. We have seen the corners of an elegant Annual nearly bitten off at a centre-table in the course of one evening.
~ Miss Leslie's Behavior Book
Miss Leslie,1859
Dark Hair becomes lighter by being kept uncovered, especially in moonlight.
Of the Government and Conduct of Women
~ Francesco da Barberino, 13--; translated by W.M. Rossetti, 1869
White furs should only be worn by experienced skaters, for they easily become soiled by the novitiate in tumbles upon the ice.
~ The Ladies' and Gentleman's Etiquette
Mrs. E.B. Duffey, 1877
A lady who has a secure seat is never prettier than when in the saddle, and she who cannot make her conquests there, may despair of the power of her charms elsewhere.
~ The Manners That Win
Anonymous, 1880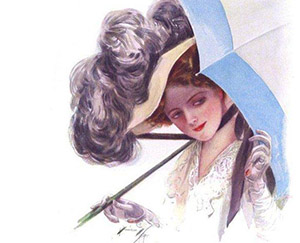 For a young lady to be seen walking alone is undesirable. If she cannot walk with her younger sisters and their governess, or the maid cannot be spared to walk with her, she had better stay at home or confine herself to the square garden.
The Manners of the Aristocracy
By one of themselves, 18—
Ladies should not cross the ball-room alone.  It invites attention.
Social Etiquette
Maud C. Cook, 18—
"No lady will be guilty of the vulgarity of sucking the head of her parasol in the street."
~ Frost's Laws and By-Laws of American Society
S. A. Frost, 1869
What are you doing? Sucking the head of your parasol! Have you not breakfasted? Take that piece of ivory from your mouth! To suck it is unlady-like, and let me tell you, excessively unbecoming.
~ The Ladies' Book of Etiquette, and Manual of Politeness
Florence Hartley, 1873
It is hardly necessary for us to say that no modest, well-bred woman, will wear the close fitting and abbreviated costumes sometimes seen, alas! With too evident an intent to display one's charms. The legs and sleeves should be long, the neck high, and the costume loose and full.
~ Modern Manners and Social Forms
Julia M. Bradley, 1889
It is a breach of etiquette for a lady to touch her baggage in a hotel after it is packed. There are plenty of servants to attend to it, and they should carry to the hack even the traveling-shawl, satchel, and railway novel. Nothing looks more awkward than to see a lady, with both hands full, stumbling up the steps of a hotel hack.
~ Frost's Laws…
S.A. Frost, 1869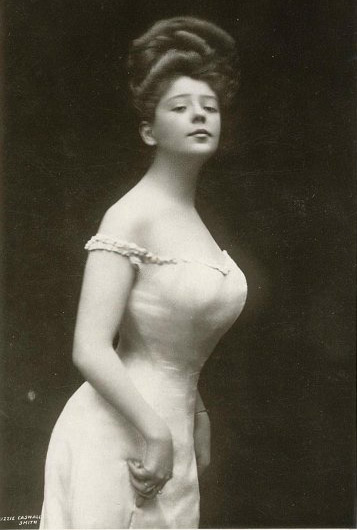 "There are good physiological reasons why the incessant chewing of anything is injurious, and it certainly is not in good taste to see persons in school or other public places with their mouths full of gum or wax, and apparently in laborious exercise. Such rumination is very unbecoming on the street, and, if observed,would give rise to serious doubts whether the ruminant be a lady or not."
~ Good Morals and Gentle Manners
Alex M. Gow, 1873
"It is especially the duty of ladies to look after other ladies younger or less experienced than themselves who may be treaveling without escort. To watch these and see that they are not made the dupes of villains, and to pass a pleasant word with others who may possibly feel the loneliness of their situation should be the especial charge of every lady of experience."
~ Social Culture
Anonymous, 1903.
Every well-sexed woman invariably throws her shoulders back and breasts forward as if she would render them conspicuous, and further signifies sensuality by way of a definite rolling motion of the posterior.
~ Orson Squire Fowler, Sexual Science, 1870
All well-sexed maidens enter womanhood with a plump, luscious bust, which usually shrivels gradually till it almost disappears by age twenty.
~ Orson Squire Fowler, Sexual Science, 1870