Janet is devastated to learn that Felix is missing in action and her growing resentment of the war conflicts with Hetty's patriotic fervor. While Hetty attempts to persuade a former student to perform in the Avonlea Christmas musical, she injures her back and must undergo surgery.
Writer: Raymond Storey
Director: Stefan Scaini
Original CBC Airdate: December 13, 1998
Time Frame: December 1914
Highlights/Analysis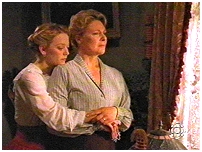 It's been over two years since the series final episode and the villagers of Avonlea are in the midst of the first world war.
Olivia returns to Avonlea from England and informs Hetty that Jasper missed the boat. This causes Hetty to question Jasper's competence, which consequently starts another feud with Olivia.
Janet's worst fears are realized when Cecily receives a telegram revealing that Felix is missing in action. Janet blames Alec, claiming that he didn't try to stop Felix from enlisting. Hetty's support of the war effort conflicts with Janet's growing resentment in light of Felix's status.
Felicity is yet again uncertain about her future when the foundling home is put up for sale, but this story line really doesn't go anywhere and sends Felicity and her future into another confusing blind alley.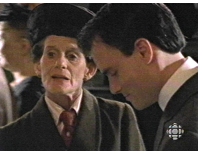 Hetty and Rachel pursue a famous performer and former student, Wilfred Aimsley, and attempt to recruit him to support Avonlea's chances for victory in the Christmas musicale. While following Aimsley to the Lieutenant Governor's ball, Hetty becomes reacquainted with Arthur Pettibone, who is interning at the Charlottetown hospital. While dancing with Arthur, Hetty is consequently injured and must undergo a life threatening back surgery.
The town is shocked by Hetty's condition and the hyperbole gets thick when Gurney remarks, "if the unsinkable Hetty King can falter, then surely so may we all" (I guess the town forgot that Hetty had a life threatening surgery in Memento Mori.). Ainsley visits Hetty in the hospital and agrees to perform at the Christmas concert.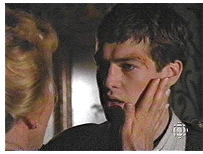 In the climactic moment, Felix miraculously returns and the King family celebrate with a Christmas dinner. Janet forgives Alec, Olivia forgives Hetty, and fans momentarily forgive the writer of this movie.
Despite the title, the main story line revolves around Felix's disappearance in the war torn fields of Europe and Janet's attempt to cope with the unbearable uncertainty of whether her son is alive. The real star of HCMK is Lally Cadeau, who gives one of her best performances as Janet King. Her realistic concern for Felix reveals the heart felt desperation of a mother whose son is missing in action.
Criticism
Happy Christmas Miss King provides a magnifying lens for many of the problems that existed in the series. The following, in no particular order, is a list of Top Ten Grievances: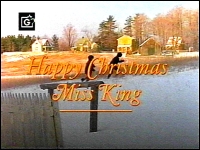 (1) The unfamiliar voice that introduces the film leaves the viewer cold with a monotone voice that's more suitable for an arctic wild life documentary. It would have been more appropriate for Hetty to provide the introduction, being that her voice narrated the last few seasons of the series.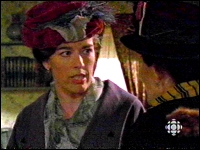 (2)
Many of the conflicts are rehashed from the series and most of them have already been resolved (Hetty makes mean spirited insults concerning Jasper's competence and begins yet another feud with Olivia, Olivia believes that Jasper doesn't love her anymore, Hetty must undergo a life threatening surgery that gives her a new perspective on life, etc.)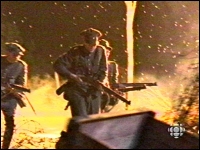 (3)
There's no explanation how Felix and Elbert, who both signed up for the Navy, are suddenly infantry soldiers fighting a ground battle (Is Ed Wood ghost writing these logic loop holes from beyond?).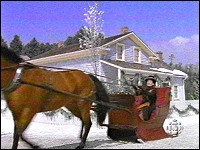 (4)
As Hetty is travelling through town near the beginning of the movie, Gourney remarks: 'There goes Hetty King. Regular as clockwork and twice as reliable.' He forgot to mention that Hetty is clearly travelling in the wrong direction away from school! As Jan from
'Avonlea.tv'
further observed, the town that Hetty rides through, with the exception of brief stock footage, looks nothing like the Avonlea village from the series.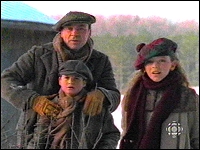 (5)
Janet gazes out the window and reflects on an image of Felix, Alec and Felicity from years past. The problem is that this exact scene was originally viewed by Blair Stanley when he arrived at King Farm to take Sara home in
Nothing Endures But Change.
Stock footage of scenery is one thing, but stock footage pertaining to specific moments in the series insults the intelligence of long time fans.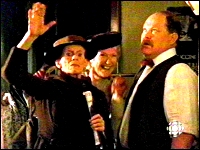 (6)
Hetty and Rachel flock after a former student like two giddy school girls at a boy band concert. It's unrealistic that Hetty, who despised acting and actors, would have supported Aimsley simply because he was a former student. The scene is designed for comic relief, but it only makes Hetty appear flighty and foolish.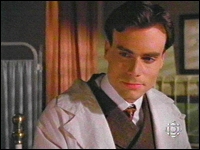 (7)
Arthur follows Felicity's pattern of changing careers and goes from animal doctor to people doctor (animals, people, what's the difference?). The purpose for this drastic change was not to develop Arthur's character, but to have someone familiar for Hetty to interact with before her surgery.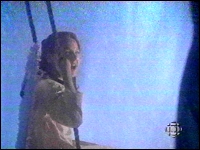 (8)
Hetty's dream sequence/hallucination during surgery was awful and deflated the seriousness of the surgery, down to Lydia Hubble's off-key 'nails scratching the blackboard' cat-like wailing.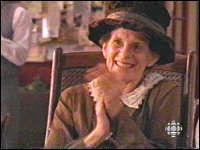 (9)
I know that this is Hetty's Christmas movie, but her domination of the dialogue eclipsed the conclusion of the most interesting and freshest story line of the movie: Felix's survival and miraculous return. Even in the final dinner scene, Felix's voice is muted so that Hetty can hoard the lines and we unfortunately never learn how Felix survived the war.
(10)
HCMK suffers from an absence of key characters (Gus Pike, Jasper Dale, etc.), but more importantly, an absence of fresh story lines. We don't see much that is new and the characters, with the exception of Felix and Janet, fail to grow or develop in a meaningful manner. There has been much disappointment expressed about 'HCMK,' most notably due to the lack of important characters. However, the episode
Lonely Hearts
has shown that good writing can still produce good stories despite the lack of key Avonlea characters.
Rhetorical Questions
Felix and Elbert are about to charge into battle. Can you guess who is the most expendable character?
Isn't it strange that Hetty is in charge of the Christmas musical, considering her defiance of music throughout the series?
What happened to Elbert? Couldn't somebody have casually asked about him at dinner while passing the turkey gravy?
Memorable Quotes
"The whole world can go ahead and change if it wants to. It shouldn't expect the same of Hetty King." -Hetty
"How can I ask Avonlea to support a charity home when... When the only charity case is me." -Felicity King
Sap Meter: 0
Notes
(1) According to Michael Mahonen, Gus Pike was supposed to have a "significant" role in Happy Christmas Miss King, but Mahonen declined to appear in the movie due to contractual disagreements. Michael provided an explanation in the guest book of Kitty's 'My Michael Mahonen site.' Gus Pike's on screen absence is explained when Hetty mentions that he is serving as a Naval telegrapher in Halifax.
(2) Strangely enough, stock footage was briefly used to show the original town and then the town was replaced by various other locations. This was because the original set was torn down after the filming of the final season in 1996. Scenes from the movie were filmed in Toronto, including Eastminister United Church in downtown Toronto and Pickering Village Museum, which included a different version of the General Store and the log house of Mrs. MacGuire.
(3) Miscellaneous dates and happenings mentioned in the movie:
An advertisement states that the Christmas Concert takes place on December 19, 1914
Felix was 19 when he joined the British Navy and left Avonlea
The Pettibones moved to Halifax
Felicity informs Cecily that she will be an Aunt in 6 months time, which means that the new Pike baby will be born around Summer 1915 
(4) In winter 2002, Sullivan Entertainment repackaged and released this movie on VHS and DVD as 'An Avonlea Christmas.'
Grade:
C-
Despite its faults, HCMK is significant in that it provides a glimpse into the lives of the 'Road to Avonlea' characters during the war years. Lally Cadeau shines as Janet King, and perhaps because Hetty's character is so sporadic, surpasses Jackie Burroughs for the top acting performance.