Switched At Birth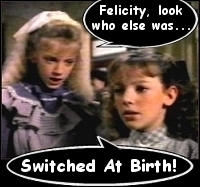 It's always a sad circumstance when two infants are switched at birth. The episode 
A Mother's Love
 clearly shows how lives can be irrevocably changed by this twist of fate. The Lantern sheds further light by revealing more Avonlea characters who were switched at birth. It is the Lantern's hope that they will one day be reunited with their rightful parents.
Latest Comments
Good grief, the sanatorium must have had Cecily on some serious steroids as part of her TB treatment...
My god Felicity was just a plain selfish, self-entitled brat.
Gus is just amazing putting up with ...
Eliza was not there at the christmas dinner !