Switched At Birth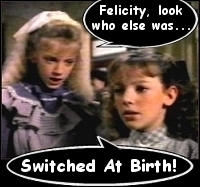 It's always a sad circumstance when two infants are switched at birth. The episode 
A Mother's Love
 clearly shows how lives can be irrevocably changed by this twist of fate. The Lantern sheds further light by revealing more Avonlea characters who were switched at birth. It is the Lantern's hope that they will one day be reunited with their rightful parents.
Latest Comments
I never liked the Stewart character even when I was a little kid and watched it. I thought I don't s...
I thought this series finale was very satisfying. It's hard to find a series that ends on such a nic...
The age gap between Felicity and Stuart kind of creeps me out. He's definitely old enough to be her ...