Switched At Birth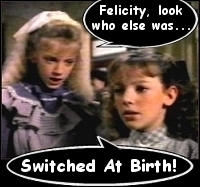 It's always a sad circumstance when two infants are switched at birth. The episode 
A Mother's Love
 clearly shows how lives can be irrevocably changed by this twist of fate. The Lantern sheds further light by revealing more Avonlea characters who were switched at birth. It is the Lantern's hope that they will one day be reunited with their rightful parents.
Latest Comments
I kind of understand where Sarah is coming from. But, I don't think the series is childish. I guess ...
I wished season 7 would've spent more time on the orphan Dean siblings and watching them emerge out ...
As much as I like Sarah, I hate how much she criticizes the show. I still think "Moving On" is a rat...