Switched At Birth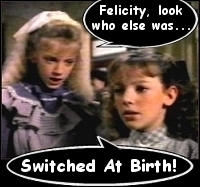 It's always a sad circumstance when two infants are switched at birth. The episode 
A Mother's Love
 clearly shows how lives can be irrevocably changed by this twist of fate. The Lantern sheds further light by revealing more Avonlea characters who were switched at birth. It is the Lantern's hope that they will one day be reunited with their rightful parents.
Latest Comments
Except it's not really kissing any more than sex scenes are actually sex. It's acting, witnessed by...
I love this one simply for the Janet and Felix story line. My only disagreement with what you said i...
Though Sarah wasn't around. I love everything about this episode. This is my favorite. King/Dale Fam...