Harmony Cramp portrayed Cecily King with a sweetness and innocence that was perfect for the role of the mild peacekeeping King sibling. Prior to her appearance on Avonlea, Harmony began acting at the age of four, performing in commercials, photo sessions and in the Enigma of Bobby Bitman TV short.
She had a brief role in the mystery thriller movie January Man when scenes were filmed in Toronto in early 1988. Harmony played a young girl saved from a burning building by policeman Nick Starkey, played by Kevin Kline. "He was really nice," Harmony said. "He came to my trailer after the scene and gave me a stuffed animal.
The film gave Harmony experience leading into her role as Cecily on Road to Avonlea. The actress Asia Vieira originally auditioned to play the youngest member of the King family, but Harmony ultimately won over producers.
And how did she get along with her co-stars?
Her co-stars on Road To Avonlea treat Harmony with the same affection. Gema is like a protective older sister offscreen as well.

"I'm good friends with all the kids," says Harmony, "but sometimes we get mad at each other. Especially if its hot and hard to concentrate and someone is fooling around."
Someone like Zach?

Harmony just giggles.1
Outside of the series, Harmony's school friends were curious about her role as the youngest member of the King family.
Ten-year-old Harmony Cramp says the kids in her Grade 5 class at Erin Mills Senior Public School in Mississauga are very interested in Cecily King, her role on Road To Avonlea. "They ask me how much money I make and how I make myself cry. I think they would like to be on TV, too."

Road To Avonlea is her first acting job, and crying on cue is still a problem.
"They always give me tears because I can't cry by myself. They tilt back my head and put them in the corner of my eyes like eye drops."1
Harmony was a wonderful cryer as demonstrated when she receives a harsh critique from Hetty King in Another Point of View.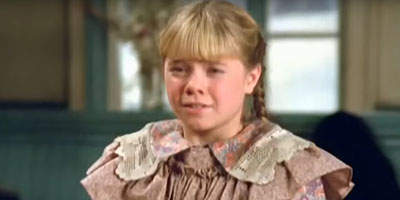 And this excellent tear jerker as she has to endure a terrible song from Avonlea alumni Eugene Levy in The Enigma of Bobby Bitman.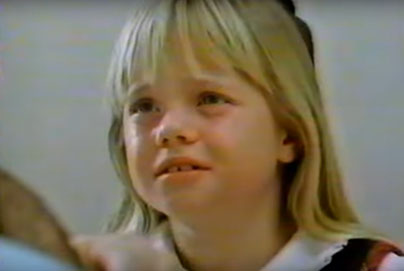 Harmony was a talented actress and should have been given more opportunities in Road to Avonlea!
Reference:
1. THREE FROM THE ROAD Avonlea kids admit there are some things they miss out on, but none would want to give up the chance to appear on TV for the world; [SU2 Edition]
Cathie James TORONTO STAR. Toronto Star. Toronto, Ont.: Aug 26, 1990. pg. C.1