Sara Stanley and Uma Thurman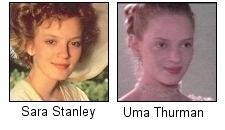 Sara and Uma share such a striking resemblance that they had to have been switched at birth! (Note: Sarah Polley and Uma Thurman were both featured in Terry Gilliam's The Adventures of Baron Munchaussen (1988))
Gus Pike and Huckleberry Finn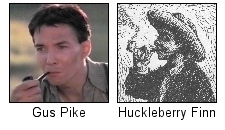 Gus and Huck are both self sufficient bare-foot wanderers who smoke a pipe, enjoy fishing and sailing, struggle against a drunken villainous father, journey into a cave where treasure is hidden, were presumed dead and were both switched at birth! (Note: Huckleberry Finn is from 'Pike County.')
Izzy Pettibone and Scout Finch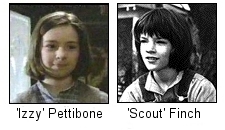 Both Izzy and Scout (From To Kill A Mockingbird) are tom boys who sport similiar hair styles, fight with boys, are known by their nick-names and were switched at birth! (Note: Izzy and Scout are from fictional towns that have a basis in reality. Scout comes from Maycomb, a fictional representation of Monroeville, Alabama).
Anne Shirley and Annie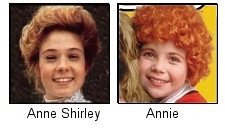 It's easy to see how Anne and Annie were switched at birth with such similiar names. These red headed waifs both became orphans and were sent to live with people who initially reject them because they were expecting a boy. Both struggle for their keep and are eventually accepted by their charges.
Simon Tremayne and John Steed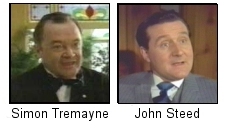 The proprietor of the White Sands hotel and John Steed, from the British television series 'The Avengers' were both sophisticated secret agents who were experts in etiquate and fine wine. Unlike Steed however, Simon retired to the unexciting life of hotel manager.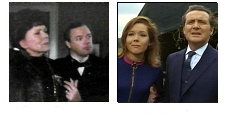 Note: Lady Blackwell, shown with Simon Tremayne from the episode
The Disappearance,
was played by Diana Rigg, who also played Emma Peel, John Steed's quirky partner in the 60s television series
The Avengers.