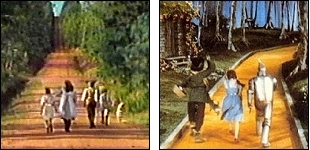 There are many similarities between The Wizard of Oz and Road to Avonlea. Sara and the King cousins follow a golden road; in Oz, Dorothy and her friends follow a yellow brick road. The roads lead the travellers on a journey that promises knowledge and ultimately leads to maturity. The lead protagonists, Sara and Dorothy at one point want to go home and wear slippers that make them wish they were home.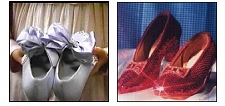 Now I'm not saying that if you play the Avonlea CD while you're watching Wizard of Oz it will coincide with the movie the way Dark Side of the Moon does, but the similarities are striking none the less.
And yes, there are incidents of individuals who were switched at birth!